Bio-Optica's routine stains and special staining kits have earned a wide acclaim in Italy and through the World during the years because of some features like the ease of use, the reproducible results, the predictable cost, the user safety and a limited environmental impact.
In addition to the Automatic Stainers, Bio-Optica offers great solutions for the manual staining.
Manual staining set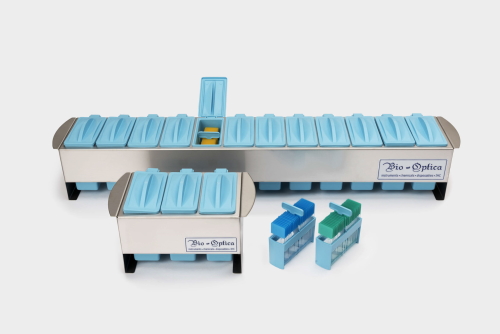 The simplest and most economical cyto-histological staining system, made of thermoplastic resin: the 10-10 manual staining set consists of twelve dishes with lid (capacity 300 ml) in a steel structure and a slide-rack for twenty-five slides. The hematology version (code: 10-20) consists of just three dishes with lid and one slide-rack. The dishes and rack are resistant to solvents and high temperatures (up to 170°C) and can be used in microwave ovens.
The manual staining sets are available with special dishes (capacity 80 ml) which are perfect for a small workload and allow to save the amount of reagents used. The staining sets with special dishes are available in the twelve version (code: 10-11) and in the three dishes version (code: 10-21).
Slide master
- for special and immunohistochemistry staining
Slide Master is the ideal manual stainer for special and immunohistochemistry staining of 20 slides. It is possible to create a humid chamber with the lid for the slides incubation in horizontal position. The two tilting racks allow to wash slides in vertical position with special water storage system. The adjustable feet and spirit level help keep the work surface totally horizontal.
Code: 15_MEQ001
Accessories for manual staining
Plastic staining set
Heat-resistant dish up to 120°C, equipped with 2 lids, one for total closure, one with a slot for inserting the rack during staining.
Glass staining set
Staining jars
Timer
Slide adapter for large samples
For use in conjunction with racks for automatic and manual stainers for staining slides with large samples together with standard slides.
Code: 20-E103/SL/R30A
FULL RANGE OF PRODUCTS
Find out the complete portfolio of products offered by Bio-Optica. Choose from a range of Disposables, Reagents and Instruments.
Contact us
info-export@bio-optica.it
+39 02 2127 131