Modular system for embedding histological samples in paraffin. It is composed by two separate units:
The operating parameters, switch-on and switch-off of the two modules can be set up separately.
Efficient
Proximity sensor for dispensing paraffin, with flow control function;
Paraffin flow rate easily adjustable.
Ergonomic Structure
Metal frame and silicon coated wrist pads;
Large heated aluminium work plate that allows for a smooth workflow, simple operation and precise control;
Rectangular cooled spot for a quick cooling of specimens up to -3° C via "Peltier" plate, controlled indipendently;
Big area suitable also for Macro Cassettes.
Bright Illumination
Dimmable adjustable white LEDs lighting uniformly illuminate the workspace;
Double status indicator lights connected to the paraffin filling level in order to control even from distance the melting of the paraffin: orange light is for loading status, and green light is for ready to use status.
Easy to Clean
Two paraffin removable collection drawers with disposable paper containers avoiding difficult cleaning operations;
Integrated heated wax trimmers at both sides for convenient tissue block trimming.
Intuitive Interface
Large touch-screen display with user friendly interface that allows quick acces to the temperature controls and other parameters. Also allows to set and program the work time and work days;
Paraffin tank level detection with two integrated level sensor;
The paraffin level can be easily controlled on the display via the specific paraffin gauge reading.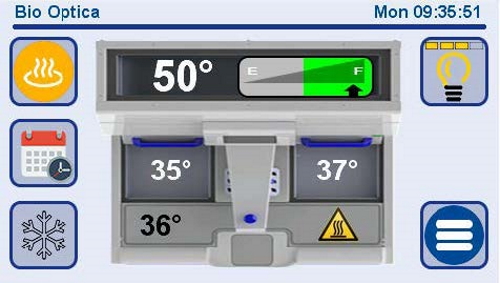 Stay connected
Possibility to apply heated forceps/tampers (available in 3 sizes) directly to the embedding module.
Modular Cryo Plate
Painted sheet steel chassis;
Cooling system by compressed cycle without CFC.
Available in two models
BCP170 for storage up to 70 paraffin blocks and BCP230 for storage more than 200 paraffin blocks, placed in vertical position. The user may position the Cryo plate for either left or right, depending only on personal preference or natural skills.
---
Watch the video to discover more: Bio-Optica - Embedding Station
Click here to download the brochure
Find all the information about our Embedding Station
---
Contact us
info-export@bio-optica.it
+39 02 2127 131